| | |
| --- | --- |
| KyteLabs InfoBase - Electron Tubes & Valves Data | Last modified: 2021-10-24 (20444) |
---
A

Anhang
Appendix
Abbildungen
Figures and Outlines
A.7

---
A.7.1
Coaxialröhren
Coaxial Tubes
A.7.2

Glas- und Metallröhren
Glass and Metal Tubes
A.7.3

Dimensionen und Anschlussnumerierung der Sockel
Dimensions and Pin Numbering of Bases
Alle Sockelanschlussbilder sind von unten gesehen - All base diagrams are bottom view.

Noch keine Abbildungen verfügbar - No images available:
B6B B6C B6D S6B



A.7.4

Röhrengalerie
Tubes Gallery
A.7.5

Schirmbilder von Elektronenstrahlröhren
Screen Diagrams of Cathode-Ray Tubes
Lage der Ablenkplatten in Bezug auf Sockelanschlüsse in Schirmansicht.
Orientation of the deflecting plates relative to base terminals at screen view.
A.8

Schaltungen
Application Circuits

---

A.8.1

NF-Spannungsverstärker in RC-Kopplung mit Trioden
Resistance-Coupled, Audio-Frequency Voltage Amplifiers Using Triodes
A.8.2

Phasenumkehrstufen
Phase Splitters - Phase Inverters
A.8.3

NF-Spannungsverstärker in RC-Kopplung mit Pentoden
Resistance-Coupled, Audio-Frequency Voltage Amplifiers Using Pentodes
A.8.4

Eintakt-Endstufen in RC-Kopplung mit Ausgangstransformator
Resistance-Coupled Single-Ended Amplifier Stages Using Output Transformers
A.8.5

Ausgangstransformatorlose Gegentakt-Endstufen
Output-Transformerless Single-Ended Push-Pull Stages
A.8.6

Transformatorgekoppelte Gegentakt-Endstufen
Transformer-Coupled Push-Pull Amplifier Stages
19 - 30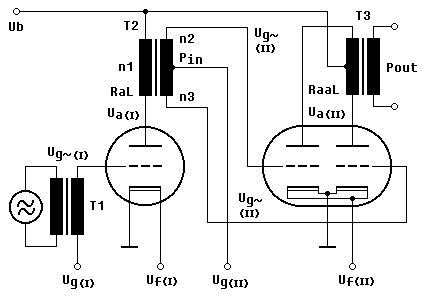 Ratings: Class-A Driver 30, Class-B Amplifier 19
A.8.7

Gegentakt-Endstufen in RC-Kopplung mit Ausgangstransformator
Resistance-Coupled Push-Pull Amplifier Stages Using Output Transformers
Ultra-Linear Output Stage: 5881

Ratings: 5881
Ultra-Linear Output Stage: 6550

Ratings: 6550
Ultra-Linear Output Stage: EL34

Ratings: EL34
Ultra-Linear Output Stage: KT55

Ratings: KT55
A.8.8

Gleichrichterschaltungen
Rectifier Circuits
A.8.9

Detektor- und andere Empfangsschaltungen
Detectors and other Receiving Circuits
A.8.10

Mischstufen und Oszillatoren
Frequency Converters and Oscillators
A.8.11

Hochfrequenzverstärker
Radio-Frequency Amplifiers
A.8.12

Digitale Schaltungen
Digital Circuits
A.8.13

Verschiedene analoge Schaltungen
Miscellaneous Analog Circuits
AC50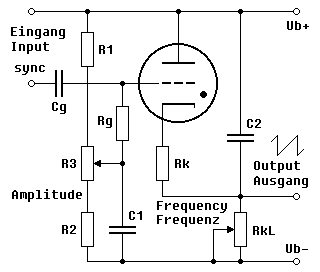 Saw-Tooth Oscillator, Ratings: AC50